Suite à une petite discussion sur le forum http://www.lockpicking101.com , voici quelques photos illustrant le fonctionnement du mobile pour les cylindres Bricard Dual XP/ Abus XP2/ Cisa AP3S.
After a short tchat on the forum http://www.lockpicking101.com , here are a few pictures illustrating the working of the moveable element for these cylinders : Bricard Dual XP/ Abus XP2/ Cisa AP3S.
Au repos et sans clé, un petit ressort écarte les 2 goupilles constituant le blocage en regard du mobile de clé.
At rest and without key, a small spring spreads the 2 pins of the blocking element regarding the mobile element of the key.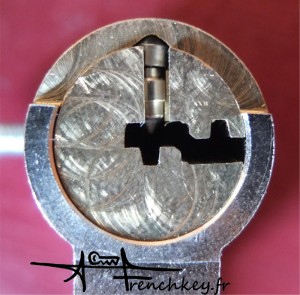 Si on applique une tension rotative (pour crocheter le cylindre par exemple), la goupille active se déplace sur le côté de manière à se bloquer définitivement. Même une pression très forte sur cette goupille ne peut pas la repousser sans devoir au préalable relâcher la tension rotative.
When a turning pressure is applied to the plug (eg. for lockpicking), the key pin is moving in a place where it's blocked and it can't be pushed unless you release the turning pressure.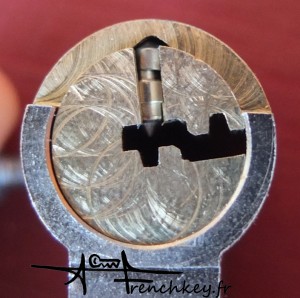 La clé est munie d'un ressort qui va repousser en permanence la goupille active.
The key is provided with a spring that will constantly pushes the key pin.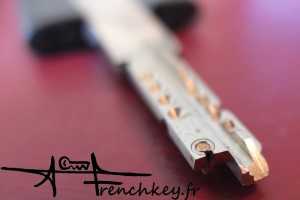 Lorsque la clé est insérée, elle repousse donc cette goupille active de manière à l'empêcher de se bloquer lorsque l'on commencera à tourner.
When the key is inserted, it pushes the key pin in a place that it won't be able to be stuck when the rotation will begin.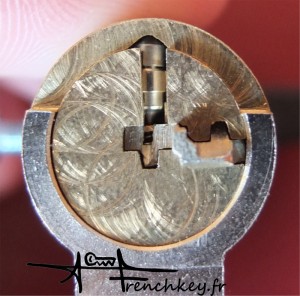 Lorsque l'on tourne la clé, la goupille passive force la goupille active à rentrer dans l'épaisseur-même de la clé, requérant alors le fameux ressort.
When the key is turned, the driver pin makes the key pin going inside the thickness of the key itself, hence the spring.
Have Fun
FrenchKey