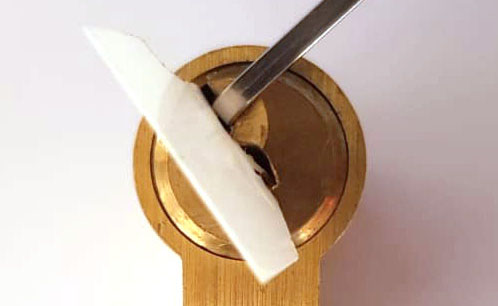 (English version below)
Il est généralement possible de copier des clés sur un simple bout de plastique.
Que ce soit en recopiant la clé directement ou même à partir d'une photo. Le plus important sur une clé est la combinaison, c'est-à-dire la forme des dents sur une clé courante.
Il est très facile de reproduire cette forme sur un bout de plastique (carte de crédit, bouteille en plastique, feuille transparente…) à l'aide d'un cutter ou de ciseau, puis de courber la feuille pour s'insérer dans le trou de la serrure. La précision du profil importe peu, tant que les dents sont reproduites assez précisément.
Petite anecdote, au cours d'un test d'intrusion que j'ai réalisé dans un hôtel haut de gamme, j'ai fait un peu de social engineering à l'accueil pour obtenir la clé de secours des serrures électronique des chambres. Cette clé de secours est normalement utilisée en cas de défaillance de la serrure électronique, et fonctionne sur toutes les serrures de l'hôtel, sans laisser de trace informatique d'ailleurs.
Avec la clé en main, il m'a suffi de 5 minutes pour la "coller" sur une feuille plastique et en découper le contour à l'aide d'un cutter. Agrémentée d'une lame métallique pour avoir assez de résistance à la rotation de la serrure, cette clé était parfaitement fonctionnelle.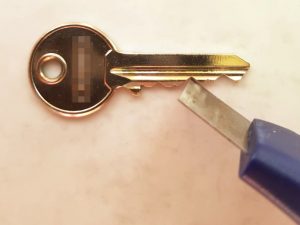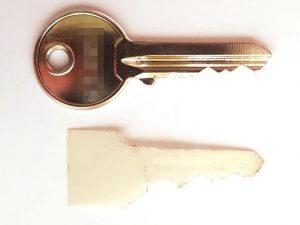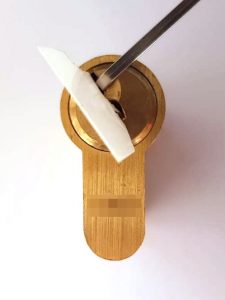 Tout ceci ne peut pas arriver si l'on ne prête pas ses clés en premier lieu.
Cette technique ne s'applique évidemment qu'à des clés à dents, mais elle fonctionne parfaitement que la clé soit brevetée ou non.
Attention, je ne dis pas nécessairement tout dans cet article pour ne pas risquer de former de futurs cambrioleurs, et il est aussi possible de copier certaines clés en quelques secondes, y compris des clés à trous ou autres.
N'hésitez pas à me contacter si vous souhaitez vous informer ou vous former aux méthodes de Pentest Physique ou aux moyens de protection.
#Sensibilisation #Formation #Atelier #Crochetage #PentestPhysique
/////English Version/////
Plastic is dangerous, even for your security!
Indeed, it is often possible to duplicate keys on a simple sheet of plastic.
Would it be by duplicating directly or with the use of photography. The most important feature of a key is its combination, represented by the shape of its teeth on regular keys.
It is fairly easy to reproduce this shape on a piece of plastic (credit card, plastic bottle, transparent sheet…) with the help of a X-acto knife or a pair of scissors, and then curve the plastic sheet to get in the keyway. Precision of the created profile is not much important as long as the teeth are reproduced accurately enough.
Small anecdote, while I was performing a Physical Pentest in a high-end hotel, I did some social engineering at the front desk to get the emergency key for the electronic locks of the hotel rooms. This emergency key is normally used in case of an electronic lock failure. It does work on all locks in a given hotel, without leaving any electronic forensic trace actually.
With the key in hand, it took me only 5 minutes to attach it to a plastic sheet and outline it with a hobby knife. Combined with a small metal strip to give it enough strength to turn the lock, that key was perfectly functional.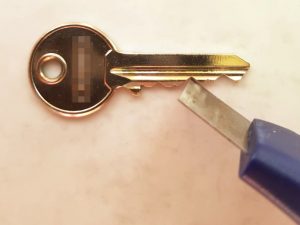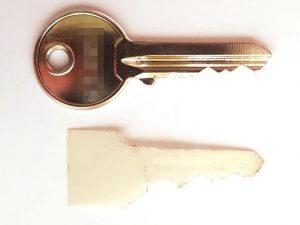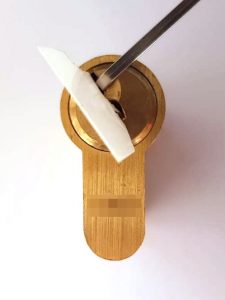 All of this cannot happen if keys are not lent in the first place.
This technique will only work on teeth keys obviously, but it will work either the key is patented or not.
Watch out, I'm not explaining all techniques in this article as I don't want to teach wannabe burglars, and it is also possible to duplicate other keys in seconds, even with dimple or other features..
Feel free to contact me if you want more information or attend to a training in Physical Pentesting or Physical Protection.
#Sensitization #Training #Workshop #Lockpicking #PhysicalPentest